Inkmat: From you Insta wall to your room wall!
Almost every one of us has an Instagram account and most of us like to customize our account with those contrasting photographs on our wall. Every day, we take a glimpse of our account and feel delighted in some way. Now imagine if you could do the same on your room walls, with the help of printed photographs, exactly the same way you do it on your timeline.
Inkmat is making this possible by delivering printed Instagram photos and frames on order and that too at a very low price. The idea behind this startup came into the minds of two budding entrepreneurs, Shobhit Bakliwal and Raghav Rawat while pursuing under graduation at BITS, Pilani.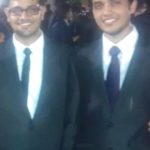 Shobhit came up with this idea when his mother wanted to show his cousins' photos to his grandmother but she didn't know about the usage of the app. So, his mother posted printed photographs prepared by him to his grandmother. Shobhit, later on, shared this idea with Raghav and they both planned for this startup.
While deciding the name for their startup, they considered the main element used in printing, i.e. the printed ink, and since they were preparing photographs with "matte" finish, they added the word 'mat' to the name. Hence, the name 'Inkmat' came into existence.
Raghav is responsible for all the offline operations at Inkmat like processing the photos, making the envelopes, and making sure they reach on time while Shobhit looks after the marketing. They prepared their website in just one day using some self-learned coding and started their services on 8th May 2014, going as lean as possible.
The team is also planning for collaborating with service providers like printing and courier companies in the near future. They send personalized photographs to their clients on their request along with self-designed envelopes. They have started very small but gained profit in the very first week. In place of a separate payment gateway, they use Instamojo for payments and till now, they are restricted only to Instagram but they are planning to cover other social networking sites like Twitter and Facebook as well.
They deliver 4 by 4 inch photographs using high-quality commercial photo equipment. If someone gets dissatisfied with the quality of prints, they can contact the team at inkmatin@gmail.com within 30 days of the order for a full refund or reprint of the pictures ordered.
Before starting their venture, they also came in front of many similar websites based in other countries which were providing the same facilities at a much higher rate. But Shobhit and Raghav saw this as an opportunity to do something big and provided them at a very less price.
Be it about decorating your room walls with good memories or planning to gift their cute pictures to one of your friends, you need Inkmat every time and everywhere. This is a great idea put forward by the two BITSians which is surely going to a very far away.
So go to www.inkmat.com right away and login with your Instagram ID to get your pictures printed!
– Composed by Niharika Karoli