Rajeev Tamhankar reaching out to comic lovers through TBS planet!
Reading is like having a conversation within yourself. What else does a book bee needs, when they have a world where they are crouched comfortably with a book on their lap, a resting place and a hot cup of coffee? Do you still remember going to library searching for a comic book, sitting alone silently, imagining and immersing in a character and finally giggling quietly realising that it's just a tale? Exactly, this is how Rajeev Tamhankar has turned into a comic writer.
Rajeev is successful in bringing his innate interest of reading to establishing TBS planet, a unique startup that claims to sell over 5000 copies each month. The startup has put efforts to build an application that can be used both on Android and IOS, the app enables the reader to read comics of all sorts!
Founded by Rajeev Tamhankar, TBS planet is based out of Jabalpur, Madhya Pradesh, it creates comics and content in many genres like mythology, comedy, action etc to name a few. The team of TBS planet has worked officially with Bollywood films like 'Shivaay' and 'A Flying Jatt' and the company promises that it launches a new comic every month.
The very thought of Rajeev to establish the company is a seed sown by his father, who is a huge fanatic of comics, and had a belief that the destiny of children into various walks of life starts with reading and that can be developed through reading comics and stories. Rajeev was very fond of crafting, comics, sketching, illustrations right at the age of 10, and this is where his journey commenced. But his interest in comics was taken over by mathematics and science and turned him into an engineer from IIT Roorkee and made him join in Flipkart.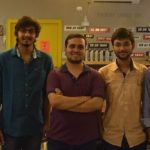 His passion for comics led him to start a Facebook page that became quite popular and this inspired him to write a novel 'Get corporated before you get fired' which was launched in 2014. Over 10,000+ copies were sold and he became popular with this novel.
Later he moved to Xiaomi, and started working on two different storylines, one named as 'Varun' which is based out of mythology and the other is 'Ved' which revolves around an illusionist detective.
Rajeev's passion towards comics pushed him to start a comic book business, TBS planet.
Today in the world of growing comic businesses, Rajeev and his team professes to sell more than 5,000 copies per month and is close to earning back its original investment. They sell through book shops, straightforwardly through merchants and web-based businesses by setting up their own overhang shops.
The group currently claims to have collaborations with nearly 120 stores and the digital comics are launched on Jio chat mobile app by Reliance with three crore downloads over the internet!
With an ultimate vision to be India's Marvel, the company would like to spread its wings into gaming, films, web series, animation flicks, and a huge theme park eventually! So if you are a comic freak or know one, TBS planet is the go-to place!
– Composed by Tarun